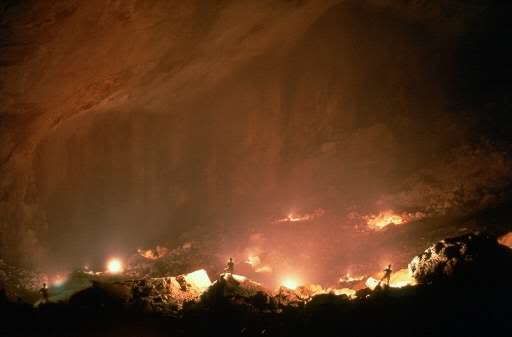 3° 57' N, 114° 47' E
I couldn't really find a good picture of Sarawak Chamber - part of the Lubang Nasib Bagus cave system in Malaysia - because one simply does not exist. It's hard to photograph a cave large enough to fit ten jumbo jets nose to tail.
This massive chamber - the largest in the world - sat undiscovered until 1981 (giving me hope there might be a few things left to be found) in what is now the
Mulu National Park
in Borneo's north. The British explorers who first stumbled upon the cave had no idea of its size, following one wall of the cave until they decided to cross to the opposite end, assuming it to be relatively nearby, despite not being able to see the opposing side with their lamps. Only after a lot of walking through darkness without end did they begin to comprehend the cavern's vastness.
In addition to the Sarawak Chamber, the Lubang Nasib Bagus includes
Deer Cave
, the largest cave passage in the world, and
Clearwater Cave
, the longest cave in Asia. Clearwater, incidentally, has never been crossed from end to end.
Now, I don't know... well, much of anything about caves beyond the childhood mnemonic device: "stalactites" hold "tight" the ceiling, and stalagmites are the other one. I've never planned any spelunking, but rather I explore the ones I stumble upon. In general, things like "basic familiarity," "dangerous tide shifts," or "a lack of a map of any kind" haven't really stopped me before, and the adventure points for this one are through the roof.
But I'm not a complete idiot (I'm still alive), and I always bring the necessary supplies and make the right preparations for a serious expedition. But I don't let something I'm a little green in get the better of me. Besides, I've seen
The Descent
,
The Cave
, and
The Cavern
(a trinity of crap if there ever was one), and I've read
House of Leaves
, so I think I've got all the info I need on caves, thank you.